Transcription Services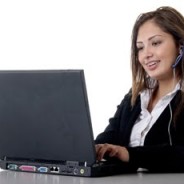 "The Transcription Lady"™ "If You Can Speak It! I Can Type It!™
Researchers, investigative reporters, PhD candidates, authors, speakers, coaches and consultants all have given interviews at one time or another.  Do you have audio files sitting in your desk drawer getting dusty, or are they on your computer taking up space? Did you know that you can re-purpose these audios into informational products, which can generate revenue for you and your business?
A transcript is more than just some words on a piece of paper, with a transcript you can summarize, edit, proof, and use the information as a source for other interview questions or to make even more teleseminars from it. We take your audio/video recording, transcribe it verbatim, and if you desire, put a border around it, put copyright information in the footer, and even design a cover of your choosing to make it very professional.
With our fast turnaround time you will have your professional looking transcript in no time at all.  Turn your audios into income by scheduling your FREE no obligation appointment below.  Do It TODAY!
Digital Transcription Services
With rapid advances in digital technology it is easier now than ever before to create, store and transcribe audio or video files. By sending us an email of the file or uploading your audio/video file directly on our website, we can instantly access the file and begin the work of creating an elegant document for you.
We work with the following formats:
Digital
MP3's
MP2's
Microcassette
Video's
DVD's
CD's
WAV and more
Captioning Services
Never let your audience miss something important that you said because someone in your audience has a hearing impairment, poor audio quality, or a speaker speaking in a different language. Get your video or webinar captioned! We provide captioning services to our clients who hold webinars or offer videos so that your audience will never miss another important point. Want to replay your webinar or video at some other time, then you will always have the captioning to go along with it.
Legal Transcription Services
As a seasoned professional who truly understands your industry's technology, I consistently produce documents with letter-perfect accuracy and  industry-specific comprehension.
I am happy to provide you with transcription rates for your individual projects and will always take your company's needs into consideration when creating a proposal for the work my company will do for you. Our services are based on a per minute rate for your audio/video files, we're happy to accommodate the needs of your firm.
"I learned of Julia's work from a colleague.  She comes highly recommended, and rightfully so.  It's so easy to send your work to her since she's deft with technology: Just plop in your audio file and zoom!  Her work is highly accurate, too, which makes the after-transcription review (that every qualitative researcher must do) such a breeze.  I've not been disappointed in her work, and I highly recommend her services." ~ Daniel K. Cortese, PhD, Assistant Professor, Political & Justice Studies and Social Science Affiliate Faculty, Gender Studies Governors State University College of Arts & Sciences. Governor's State University.edu
Let me prove it to you with a no-obligation quote.
We appreciate our clients new and old. We like to serve them on an indivdual basis, which is why we prefer to speak to you one-on-one to find out your individual needs. So that we may learn more about your transcription needs please schedule an appointment for a FREE consultation so that we may better serve you by clicking

to schedule an appointment.

Are you curious about learning transcription? Do you want to make extra income from home? And who doesn't nowadays? If you have thought about learning transcription and want to learn how the "right" way, you need to check out our sister site, The School of Transcription! You will learn from an expert with over 12 years experience. You will have access to video chat, text chat, a monthly webinar where you will learn the tips of the experts who are preparing transcription. So stop by and visit today by clicking here.
If you have a question about any of our services, please fill out this form:

Required fields are marked *.