Payment Page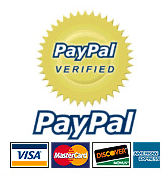 You can make an online payment using PayPal … and you don't have to have your own PayPal account! Julia's Virtual Assistance and Transcription Service accepts Visa, MasterCard, Discover, and American Express cards.
Please include your First and Last Name in the "Message to Seller" section when making a payment or project deposit.
A receipt for your transaction will be e-mailed separately from PayPal.
If you have any questions, please give us a call at 877-255-0679.
I have read & agree to be bound by the Terms of Service.
Message to Seller:

$


Click Logo to Send Payment:
How Does PayPal Work?
It's simple, save, fast and secure. When you shop online, choose PayPal when paying with your credit card. You'll be asked to log in or sign up for a free PayPal account using your email address and password, no worries if you don't have a PayPal account. Just click on the link where it says pay with credit card and follow the instructions.
Click to confirm your payment and then you're done. Your financial security is PayPal's highest priority. You're protected from any unauthorized payments made from your PayPal account.