Beware of What's Hidden Within – Part 2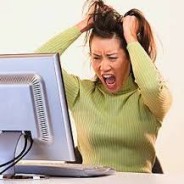 So far  the other alternatives I found:
Go to http://www.pctuneup.com/fix. They will give you instructions to download a scanner software to stop the worm/virus. I attempted to download the scanner software and it wouldn't connect to their database, it kept shutting down. After contacting tech support, I was told this:
"You have several alternatives: A. You can take your computer to your local trusted computer store or "Geek Squad" at Best Buy and be charged from anywhere $300 to $500, plus your computer will be down for 1 to 2 weeks.
B. Another alternative is we can help you get rid of this virus. Once you realize that you have this worm/virus the more you start and shut down your computer the worse it gets! It could eventually ruin your computer for good. We will be happy to fix your computer for a mere $225.00 plus a monthly membership to PCTuneup for $24.95 a month. We will then transfer you to a Microsoft Technician who will remotely work with you to rid your computer of this worm/virus." or,
C. I contacted Microsoft Support myself and talked with one of their technicians directly and the charge would be $99 for a one time fix or $147 for a year of fixing any software problems with any of their products.
As of right now, since money is tight and I have another computer to use, I am saving up the money to contact Microsoft directly.
I hope this has helped you if you should run into this malicious and dangerous worm/virus.  Please feel free to leave your experiences with this worm/virus in the comment section below. All comments are given approval before being posted.
Please stay tune for updates on this worm/virus outcome as once I contact Microsoft I will be posting how to get rid of this malicious menace!